Bharat Sanchar Nigam Ltd
The Bharat Sanchar Nigam Limited (BSNL) is a state-owned telecommunication company, established on 15th September 2000. BSNL functions under the control of the Ministry of Communications and Information Technology, Government of India. BSNL is in the business of providing telecom services across the country. BSNL has its headquarters in New Delhi.

Bharat Sanchar Nigam Limited owns vast tracts of land across the country which is lying unused and is under encroachment. According to the 53rd Report on Land Management in BSNL 2016-17, the total area of unused land held under the BSNL is 938 acres. The value of the unused land held by the BSNL is ₹ 20,223 crore

The Comptroller and Auditor General of India revealed that 210 acres of land held by the BSNL are under encroachment across the country. CAG pointed out that the company did not make any efforts to protect these land parcels from encroachment.

CAG also revealed that the land inherited by the BSNL in the year 2000 was not transferred in the name of the company till 2012. Because of which the company cannot sell their idle assets. This also gave rise to illegal encroachments.

The company is sitting on a large chunk of vacant land in metropolitan cities such as Mumbai, Kolkata, and Bengaluru etc. BSNL holds 66 acres of unused land of the value of ₹ 13,400 crore in Mumbai. In Kolkata, 158 acres of land of the value of ₹ 671 crore is locked by BSNL. 117 acres of land of the value of ₹ 1,280 held by the BSNL is lying unutilized in Bengaluru.

By 2016-17, BSNL made a cumulative loss of ₹ 55,000 crore. This clearly indicates that BSNL is misusing the huge tracts of land allotted to them and even wasting the taxpayer's money by making huge losses.

These unused land parcels which are locked by BSNL must be unlocked so that it could be efficiently used for the development of the country.

Refer to the table and accompanying map for the details.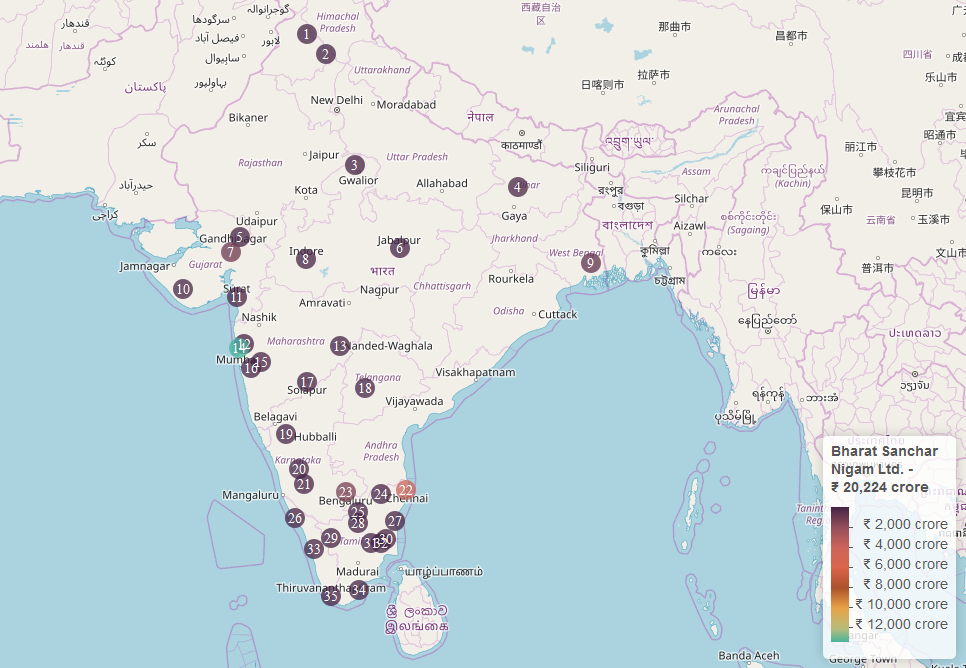 [1] Bharat Sanchar Nigam Limited (BSNL)
#
City
Area (acre)
Value (₹ crore)
1
Hoshairpur
0.7
0.7
2
Chandigarh
0.2
0.5
3
Morena
0.67
0.7
4
Patna
205
40
5
Himmatnagar
1
1.2
6
Jabalpur
2
4.6
7
Ahmedabad
133
967
8
Indore
3
6.5
9
Kolkata
158
671
10
Junagadh
0.15
0.3
11
Surat
0.24
0.5
12
Kalyan
1
3.3
13
Nanded
0.47
0.5
14
Mumbai
66
13,400
15
Pune
10
22
16
Raigad
0.01
0.01
17
Sholapur
10
21
18
Hyderabad
2
5
19
Dharwad
4
8.6
20
Shimoga
1
3.3
21
Chikmaghur
0.64
1.2
22
Chennai
216
3,770
23
Bengaluru
117
1280
24
Vellore
0.69
1.4
25
Dharamapuri
0.37
0.75
26
Kannur
0.59
1.2
27
Cuddalore
0.13
0.2
28
Salem
1
3
29
Coimbatore
0.49
1
30
Kumbhakonam
0.84
1.7
31
Trichy
1
3.8
32
Tanjore
0.14
0.3
33
Trichur
0.35
0.7
34
Tutikorin
0.49
1
35
Thirivanthpuram
0.55
1
Total
938.72 acre
₹ 20,223.96 crore
References