Bihar Industrial Area Development Auhtority
The Bihar Industrial Area Development Authority (BIADA) was established in the year 1974 under the statutory provision of the Bihar Industrial Development Act 1974. BIADA functions under the management of Department of Industries, Government of Bihar. It was formed with an aim to provide planned industrial areas and promote industrial and infrastructure development for the state.

BIADA has about 52 industrial areas comprising of industrial estates, growth centres, and industrial parks under four regional offices - Patna, Bhagalpur, Muzaffarpur, and Darbhanga.

The total area of land lying vacant under BIADA is 144 acres (or more than 100 football fields) across the state. The total value of this vacant land is ₹ 272 crore. [1]

The Comptroller and Auditor General of India (CAG) point out several irregularities in the functioning of BIADA with respect to allotment of plots. Between 2002 and 2012 BIADA received around 3,722 applications out of which BIADA allotted land to only 2,049 applicants. CAG revealed that the allotment of land made by BIADA was arbitrary and discriminatory, as it was decided that plots will be auctioned instead of allocating them on a first-come, first served basis. But, CAG observed that BIADA still continued to practice the first-come, first served method. There were instances where 317 acres of land was allotted to 83 applicants without meeting the requirement of project profile reports. [2].

In Patna, 174 applications were presented without any documentation before the Project Clearance Committee. CAG stated that the land was not given for industrial purposes and in some cases, excess land was allotted as against the prescribed norms.

This shows how bureaucrats working in BIADA extract rents and misuse public land for their individual gains compromising in developing industries. These unused and misused land-parcels should be free from the control of bureaucrats so that they can be used for productive purposes and for contributing to the economic development of Bihar.

Refer to the table and its accompanying map for details.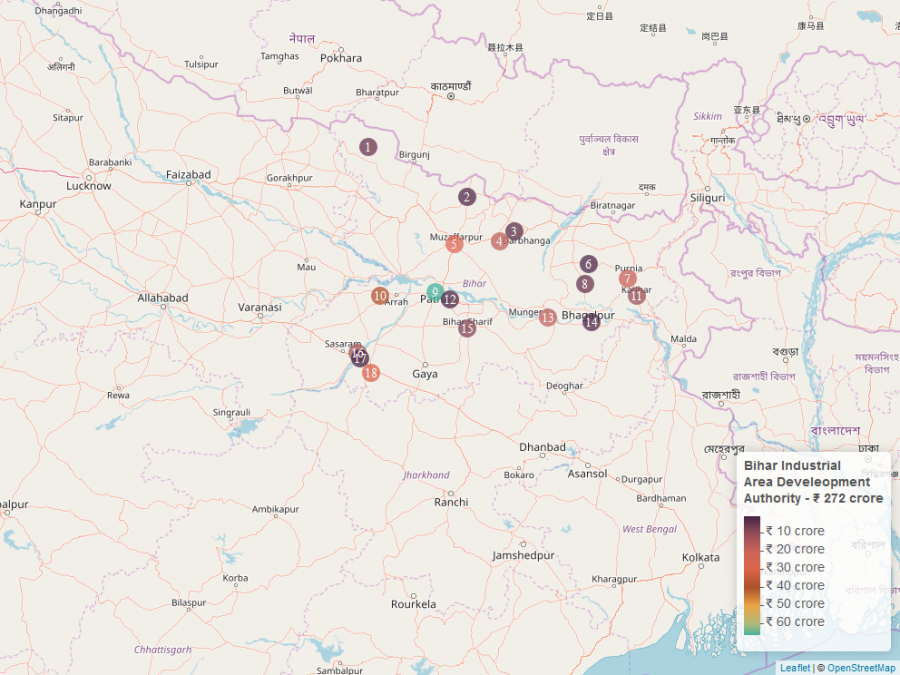 [3] Bihar Industrial Area Development Authority
#
District
Area (acre)
Value (₹ crore)
1
Ramnagar
3
5
2
Sitamarhi
1
2
3
Pandaul
9
4
4
Donar
12
18
5
Muzzafarpur
15
24
6
Murliganj
1
2
7
Maranga
12
20
8
Udakisanganj
3
5
9
Patna
33
66
10
Bihiya
11
39
11
Kathiar
4
11
12
Fatuha
1
2
13
Jamalpur
9
19
14
Barari
1
3
15
Biharsharif
2
9
16
Dehri
7
13
17
Barun
1
1
18
Aurangabad
19
30
Total
144 acre
₹ 273 crore
References
References