Chennai Metropolitan Development Authority
The Chennai Metropolitan Area Development Authority was established in the year 1972 and became a statutory organization in 1974 under the statutory provision of Tamil Nadu Townland Country Planning Act 1971. The CMDA functions under the control of the Ministry of Housing and Urban Development.

The main functions of the Chennai Metropolitan Development Authority are to carry out surveys for metropolitan planning area, to prepare the master plan, to prepare an existing land use and to carry out development work in Chennai etc.

The CMDA acquire vast tracts of land across the city for housing, infrastructure, industrial and commercial purposes in Chennai. CMDA holds huge tracts of unused land across the city which was acquired for carrying out development activities in the city. The total area of unused land located at prime locations in Chennai lying under the control of CMDA is 75 acres ( or 70 football fields). The total value of these unused land parcels is ₹1319 crore [1].

These unused land parcels which were acquired in the name of development of Chennai must be free from the control of CMDA. These parcels of land lying vacant at the prime locations of Chennai restricts the urban expansions and development in the city. If these unutilized land parcels are freed-up from the control of CMDA then it could be put to more productive purposes which will contribute to the development of Chennai.

Refer to the table and accompanying map for the details.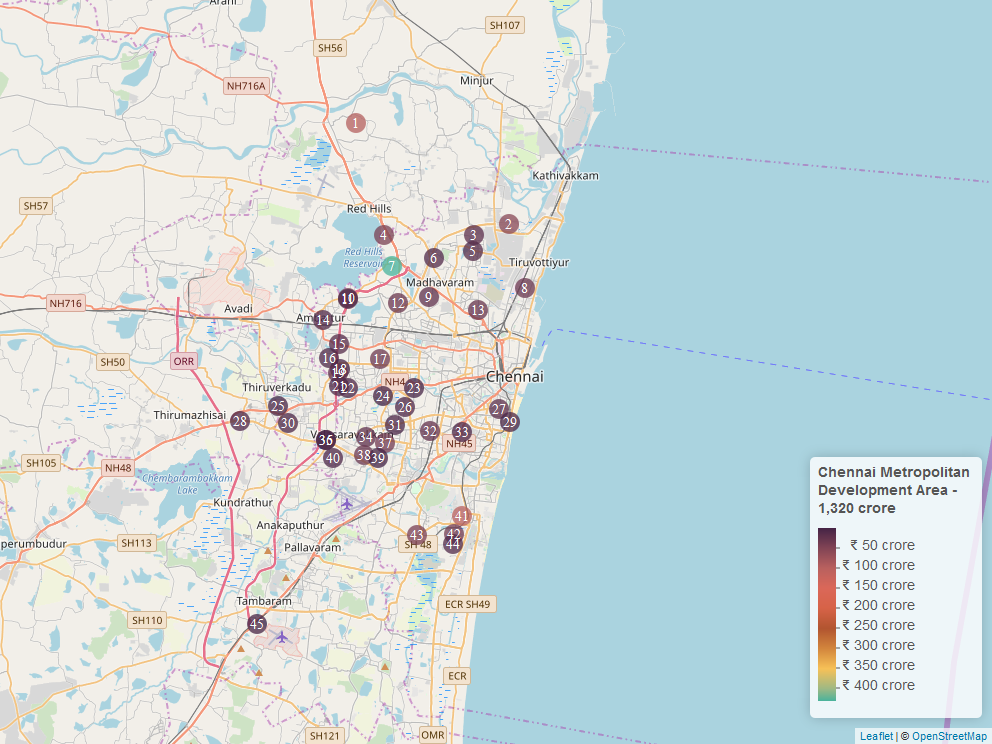 [2] Chennai Metropolitan Development Authority
#
Locale
Area (acre)
Value (₹ crore)
1
Soorapatu
5.3
93
2
Manali TNHB Phase 2- Sadayankuppam
3.2
55
3
Nedunchezhiyan Street
1.1
19
4
Puzhal
2.5
44
5
Padmagiri Nagar,Periyasekaddu
0.8
14
6
Madhavaram
0.6
10
7
Kathirvedu village
24.7
431
8
Ellaya Mudali Street
1.8
31
9
Thanicachalam Nagar
1.2
20
10
Redhills Road Korattur
2.1
37
11
TNEB Layout Menambedu
0.5
8
12
Laxmipuram
1.8
31
13
M.K.B Nagar Perambur
1.6
29
14
Venkatapuram
0.5
9
15
M.T.H. Road SIDCO,Ambattur
0.8
13
16
Reddy Palayam, Mogappair & Athipet
0.3
6
17
Jeevan Beema Nagar
1.9
33
18
Anna Malai Avenue
0.1
1
19
2nd cross street SIDCO
1.3
22
20
Mugappair
0.5
9
21
Nolambur Phase
0.5
9
22
Sakthio nagar 1st avenue
0.4
7
23
Arumbakkam Kalki Nagar
0.1
1
24
SAF Games Village XII, Koyambedu
0.1
2
25
Meenakshi Bharati Co-operative Nagar Phase-1
0.1
2
26
Thiruvalluvar Street, Vangaram Salai
0.4
7
27
Trplicane
1
18
28
Periyar Salai
0.3
6
29
K.H Road, Chennai
0.3
6
30
Sri.Krishna Nagar
0.3
6
31
Arcot road ETA
0.2
4
32
Jayachandran Nagar
1.5
25
33
471, Annasalai, Mylapore
0.3
5
34
Chowdhary Nagar
1.2
21
35
M.P Nagar, Porur
0.9
16
36
Karambakkam
0.1
1
37
MGR Nagar
2.1
36
38
Giri Nagar, Ramapuram
1.8
32
39
Amman Nagar
0.1
1
40
Udhaya Nagar
0.3
5
41
MBTT complex
5.7
99
42
M.G.R.Salai, RMZ Phase 2
2.2
38
43
Velacherry
2.5
43
44
Anna Nedunsalai
0.5
9
45
Senthil Murugan Nagar
0.1
2
46
Mahabaliburam Road
0.2
3
Total
75.8 acre
₹ 1,320 crore
References