Delhi Gram Sabha
The Gram Sabha land comes under the Gram Sabha. Gram Sabha is responsible to undertake functions such as sanctioning the projects for the social and economic development of the village
As per the response of an RTI application filed by a Delhi-based activist Rajhans Bansal, around 1,000 acres of gram sabha land is encroached by the land mafia. The land grabbers are sitting on gram sabha land worth ₹5,000 crore.
The gram sabha land of villages including Dera Mandi, Aya Nagar village, Mithapur, Jaitpur and Neb Sarai located in the south and south-east zone of New Delhi is heavily encroached by the land sharks. These encroachments are a result of the strong connection between the land grabbers and local leaders.
Despite the strong instruction from the Supreme Court to all the state governments and union territories to evict the encroachers from the gram sabha land, the encroachment on gram sabha land is widespread in New Delhi. It is very disappointing to see that land which was meant to be used for the development of villages in New Delhi is being illegally encroached by the people.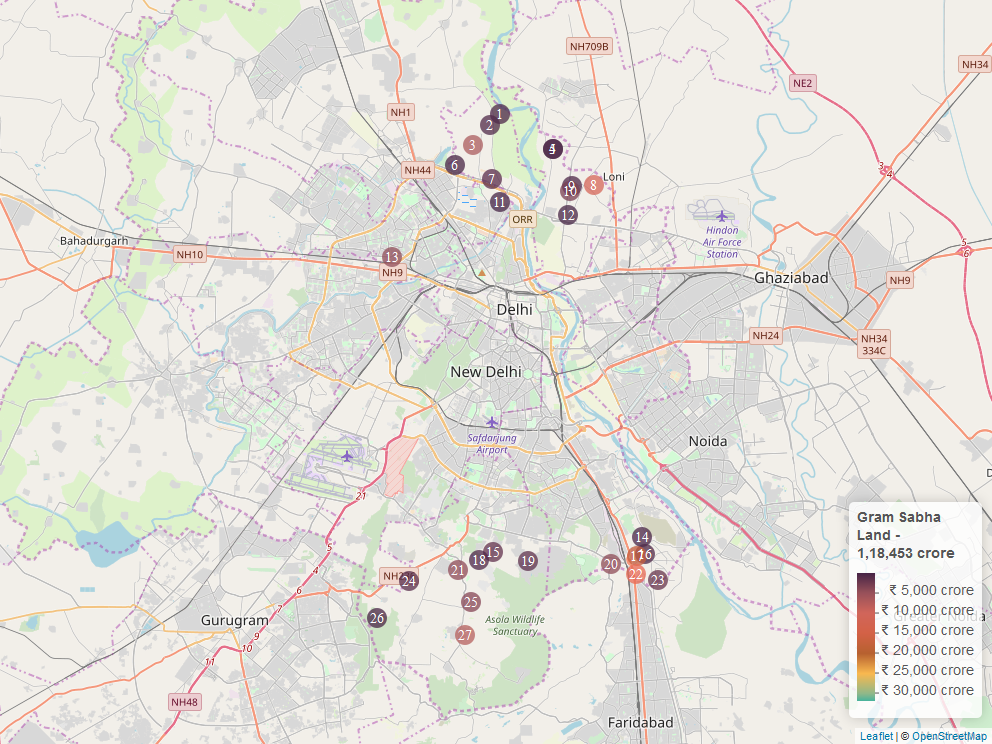 [1] Delhi Gram Sabha Land
#
Locale
Area (acre)
Value (₹ crore)
1
Badarpur Majra Burari
2
473
2
Salempur Majra Burari
4
744
3
Burari
32
6,152
4
Sabhapur
2
355
5
Sabhapur Shahdra
3
591
6
Mukund Pur
1
223
7
Jharoda Majra Burari
7
1,271
8
Karawal Nagar
55
10,466
9
Sadatpur Gujran
3
620
10
Sadatpur Musalman
17
3,275
11
Kamalpur Majra Burari
1
114
12
Khajuri Khas
1
180
13
Sahoorpur
24
4,594
14
Aali
2
324
15
Neb Sarai
9
1,770
16
Molarband
4
692
17
Badarpur Khadar
86
16,322
18
Maidangarhi
3
543
19
Devli
8
1,483
20
Pul Pahlad
24
4,548
21
Chattarpur
23
4,390
22
Tajpur
69
13,099
23
Meethapur
11
2,110
24
Gadaipur
6
1,225
25
Satbari
21
3,926
26
Aya Nagar
1
221
27
Asola
36
6,958
28
Dera Mandi
167
31,783
Total
622 acre
₹ 1,18,453 crore