Gujarat State Warehousing Corporation
The Gujarat State Warehousing Corporation was established in the year 1960. The corporation functions under the control of Agriculture, Farmers Welfare and Co-operation Department, Government of Gujarat. At the time of its formation, the corporation had three centers across the state which include Derol, Unjha and Bodeli. The corporation began with an initial storage capacity of 930 metric tonnes. As on February 2015, the corporation is holding around 48 centers having godowns with the storage capacity of 1,70,311 metric tonnes.

The corporation holds huge tracts of vacant land across the state. These parcels of land were purchased by the corporation between the year 1972 and 1992 and since then they are kept unutilized. The total area of unused land held by the corporation is about 33 acres and the acquisition cost of these unused land parcels is ₹ 66 crore. These all parcels of land were acquired from the year 1972 to 1992 and since then the corporation has kept these land parcels vacant [1]

This indicates that how Gujarat State Warehousing Corporation acquired vast tracts of land parcels across the state in the name of building warehouses but kept them unused. These unused parcels of land are locked under Gujarat State Warehousing Corporation for more than 40 years. There may be a possibility that there can more such abused land is held by the corporation. These vacant land parcels must be free from the control of Gujarat State Warehousing Corporation so that it could be utilized for some productive purposes so that it could contribute to the economic development of Gujarat.

Refer to the table and accompanying map for the details.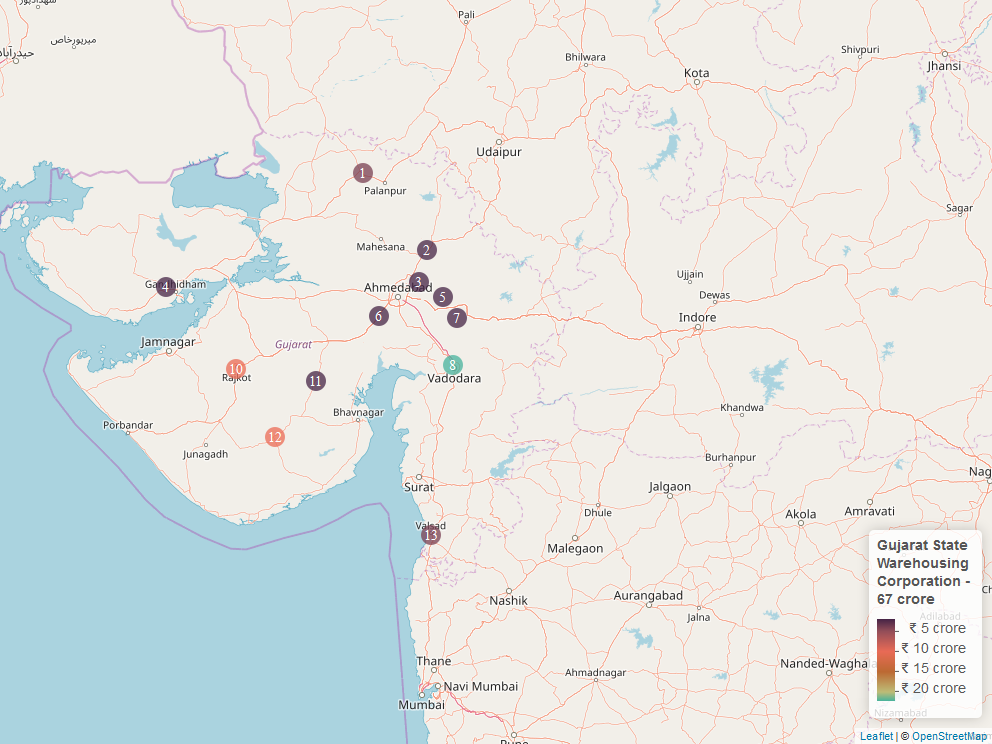 [2] Gujarat State Warehousing Corporation
#
District
Area (acre)
Value (₹ crore)
1
Deesa
2
4
2
Salal
1
2
3
Dahegam
1
2
4
Anjar
1
2
5
Kapadvanj
1
2
6
Bavla
1
2
7
Thasra
1
2
8
Vadodara
11
22
9
Kambhat
1
2
10
Rajkot
5
10
11
Botad
1
2
12
Amreli
5
10
13
Valsad
2
4
Total
33 acre
₹ 67 crore
References