Haldia Development Authority
The Haldia Development Authority is a statutory organization established under the West Bengal Town and Urban Planning Act 1980. The main functions of the Haldia Development Authority are to promote industrial activities, create efficient infrastructure, acquisition, and development of land, and overall development in the Haldia planning area.


HDA acquire vast tracts of land for housing, infrastructure, industrial and commercial HAD holds huge tracts of unused land across the city which was acquired for carrying out development activities in the Haldia planning area. The total area of unused land held by the HDA is 624 acres. The total value of these unused land parcels is ₹ 903 crore.

These unused land parcels which were acquired in the name of development of Haldia must be free from the control of HDA. These parcels of land lying vacant at the prime locations of Haldia district which restricts the urban expansions and development. If these unutilized land parcels are freed-up from the control of HDA then it could be put to more productive purposes which will contribute to the development of Haldia.

Refer to the table and accompanying map for the detials.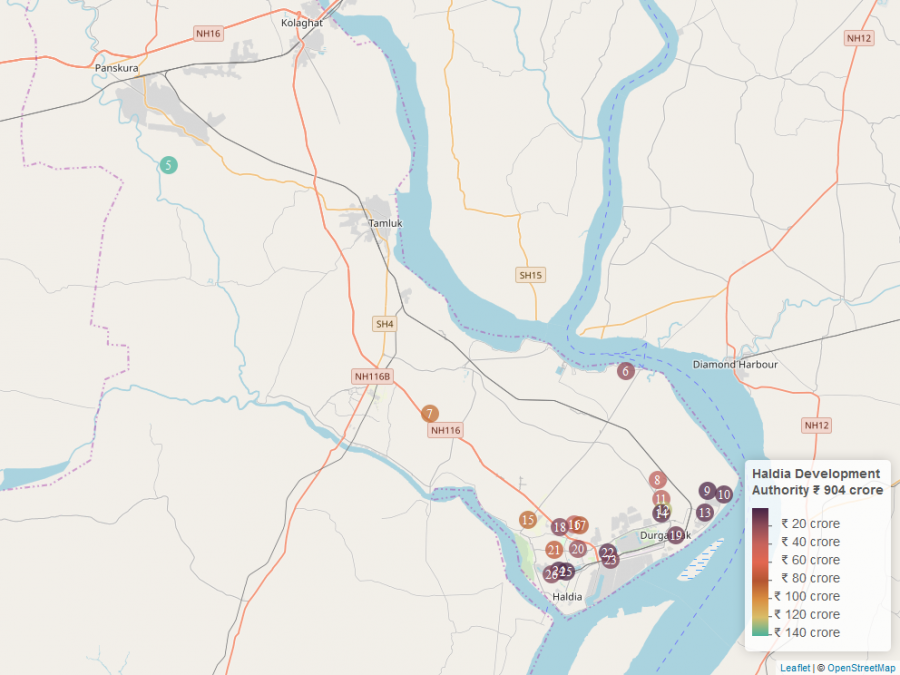 [1] Haldia Development Authority
#
District
Area (acre)
Value (₹ crore)
1
Raghunathchak
0.38
0.7
2
Anandachak
6.77
4.8
3
Banbishnupur
8.62
17
4
Joynagar
17.12
5.7
5
Radhaballavchak
69.36
140
6
Gazipur
9.77
20
7
Rajarampur
86.6
92
8
Purba Srikrishnapur
17.34
35
9
Baneshwarchak
2.39
2.5
10
Jhikurkhali
5.88
5
11
Bhagayabantpur
16.58
34
12
Basudevpur
51.64
126
13
Bhuniaraichak
8.2
5.9
14
Basudevpur
2.72
5.5
15
Chakdwipa
44.54
90
16
Solat
83.44
36
17
Bamuniya
40.19
81
18
Dighasipur
18.79
16
19
Kumarchak
4.55
9
20
Bhbinipur
10.55
21
21
Balughata, Haldia
37.83
77
22
Dakshin Bishanbchak
2.71
5.5
23
Chiranjibpur
14.6
14
24
Debhog
3.33
2.2
25
Bebhog
1.55
3
26
Pitambarchak
8.08
16
27
Kashbere
19.8
18.4
28
Alichak
22.43
16
29
Ramnagar
8.95
4.6
Total
624.7 acre
₹ 903.8 crore