Haryana Irrigation Department
Haryana Irrigation Department is sitting on large chunks of unused land across the state. The department also holds tracts of land which are stuck in litigation due to illegal encroachment. These parcels of land are located in the major cities of Haryana. This indicates that government cannot even protect their own land parcels from encroachments.

In Ambala 64 acres of land of the value of ₹ 129 belonging to the Irrigation Department is been kept unused or is under heavy encroachment. 109 acres of land of the value of ₹ 221 crore is lying unused in Karnal. The department has also locked 400 acres of the land of the value of ₹ 809 crore in Rohtak.

The total area of surplus or encroached land held by the department is 2,421 acres. The total value of these unused or encroached land parcels is ₹ 4,899 crore. These are the conservative prices of the unused land parcels belonging to the department.

All such unused land parcels must be free-up from the control of the Haryana Irrigation Department. Such land parcels are being abused and restricting urban expansion and development in major cities.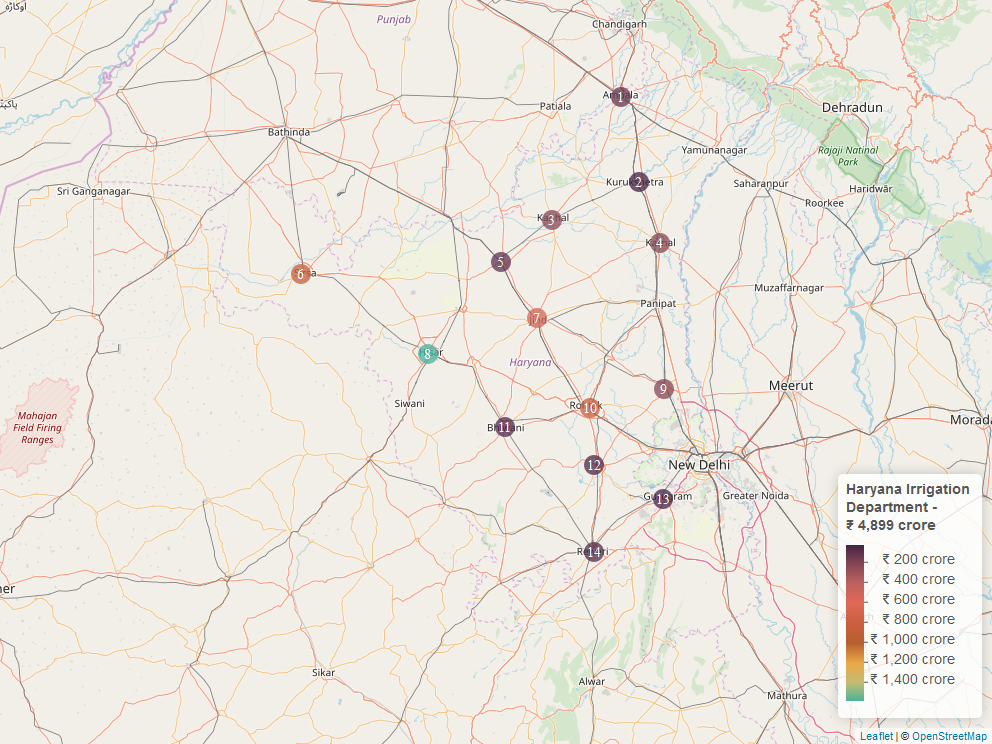 [1] Haryana Irrigation Department
#
District
Area (acre)
Value (₹ crore)
1
Ambala
64
129
2
Kurukshetra
16
32
3
Kaithal
112
227
4
Karnal
109
221
5
Narwana
53
107
6
Sirsa
407
824
7
Jind
258
522
8
Hisar
780
1,578
9
Sonepat
110
223
10
Rohtak
400
809
11
Bhiwani
31
63
12
Jhajjar
26
53
13
Gurgaon
18
36
14
Rewari
37
75
Total
2,421 acre
₹ 4,899 crore