Haryana Revenue Department
Various departments under the Government of Haryana holds huge tracts of land across the country which is lying unused. The Secondary Education Department holds 17 acres of land which is lying vacant in Kurukshetra. 159 acres of land is lying vacant in Hisar under the Urban Local Bodies Department. Commissioner Office Ambala holds 5 acres of land which is lying unutilized in Kurukshetra. Commissioner Office Hisar holds 444 acres of land which is been kept vacant across the state.
These huge tracts of land must be free-up from the control of these departments. The total value of these unused land parcels is ₹ 1,361 crore.
Unutilized Land under Various Departments of Haryana Government
#
Name of Departments
Area (acre)
1
Commissionar Ambala
5
2
Secondary Education
17
3
Urban Local Bodies
159
4
Commissionar Hisar
444
Total
625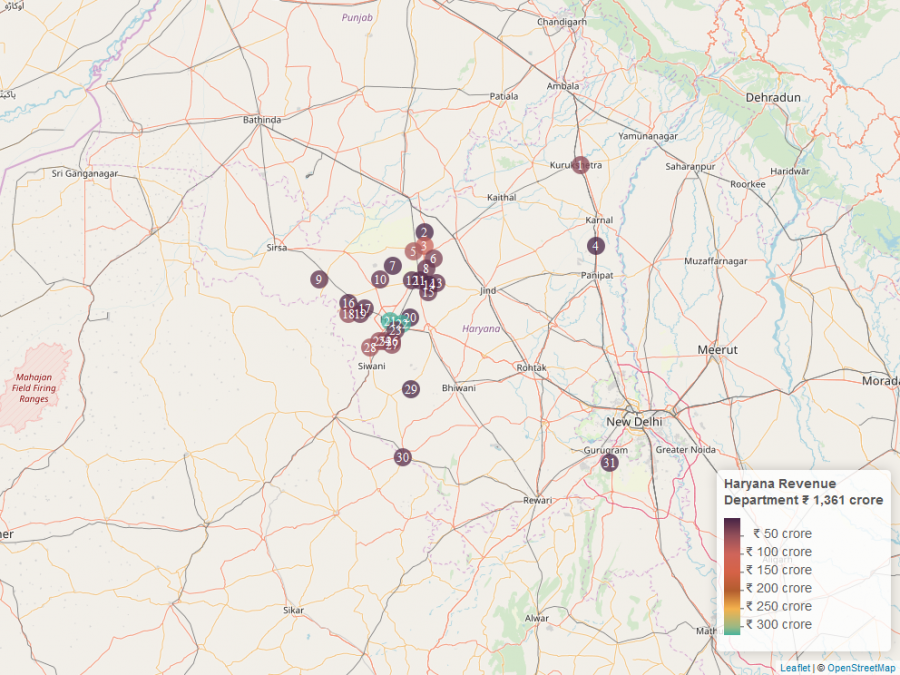 [1] Haryana Revenue Department
#
District
Area (acre)
Value (₹ crore)
1
Salemghar
10
20.2
2
Kurukshetra (Thanesar)
21
42.5
3
Samain
0.94
2
4
Bithmara
47
95
5
Gharaunda
0.84
1.6
6
Uklana
31
62.75
7
Litani
17
34.4
8
Nehla
2
4
9
Gaibipur
11
22.25
10
Brick klin
8
16
11
Kuleri Agroha
9
18
12
Barwala
5
10
13
Khedar old Black Manor
6
12
14
Khara Punia
9
18.2
15
Badhawar
1
2
16
Rajali Minor Gurana
10
20.2
17
Kiramara Pabra
5
10
18
Jakodkhera
6
12.15
19
Gursal Minor Bagla
24
48.5
20
Niyana
2
4
21
Hisar
159
321
22
Satrod Khas
159
321
23
Dabra Minor Dabra
11
22.25
24
Singhran
21
42.5
25
Kalwas
26
52.5
26
Old Dewa Mangli
13
26
27
Harita Minor Bharri
22
44.5
28
Chaudharywas
28
56.65
29
Bhiwani
1.26
2.5
30
Loharu
6.28
12.7
31
Badshahpur
2
4
Total
674.32 acre
₹ 1,361.35 crore