Haryana State Industrial and Infrastructure Development Corporation
Haryana State Infrastructure and Industrial Development Corporation (HSIIDC) was established on 8th March 1967, under the provision of the Companies Act, 1956. [1] HSIIDC is a state-owned agency of Government of Haryana headquartered at Panchkula.

The main objectives of HSIIDC are to promote industrial and infrastructure development in Haryana, under the management of the Department of Industries and Commerce. HSIIDC acquired vast tracts of land at prime locations for carrying out industrial activities and infrastructure projects but kept them unused.

According to Comptroller Auditor General (CAG), HSIIDC acquired 7,540 acres of land (equal to 5,712 football fields) of the value ₹ 4,485 crore between 2006 to 2013. The purpose of acquiring the land was for setting-up industries and carrying out infrastructure projects[2]. The land was acquired to give a boost to the MSME sector under the Industrial Policy 2011-2015 of the Haryana Government.

In 2006, HSIIDC acquired 668 acres of land of the value ₹ 368 crore in Manesar for the development of Phase-V in Industrial Model Township. In the same year, the company acquired 1,590 acres of land of the value ₹ 1,619 crore for setting up an SEZ in Gurugram, Haryana.

In 2008, another 385 acres of land was acquired by the company for institutional purpose in Rai, a district in Haryana. In 2011, HSIIDC acquired yet another 195 acres of land of the value ₹ 77 crore in Bahadurgarh for setting up a sewerage treatment plant and a 2100 MW gas-based power plant. In 2013, 3,201 acres of land was acquired value at ₹ 1,577 crore for the development of Industrial Model Township in Kharakoda near Sonepat.

All of the above-specified lands were never brought to any use after acquisitions. CAG revealed that no development has been taken up on the acquired land as on March 2017. The auditor general pointed out the reason behind the non-utilization of the huge tracts of land acquired by HSIIDC to be a severe lack of planning and implementation on the organisation's end. The company also failed to achieve its goal of giving a boost to MSMEs in the state of Haryana.

HSIIDC is a stark example of agencies who in the name of industrial park development, acquire huge tracts of land at prime locations only to end up misusing them. This restricts development and creates an artificial scarcity of land in major cities. Refer to the map and accompanying table for details.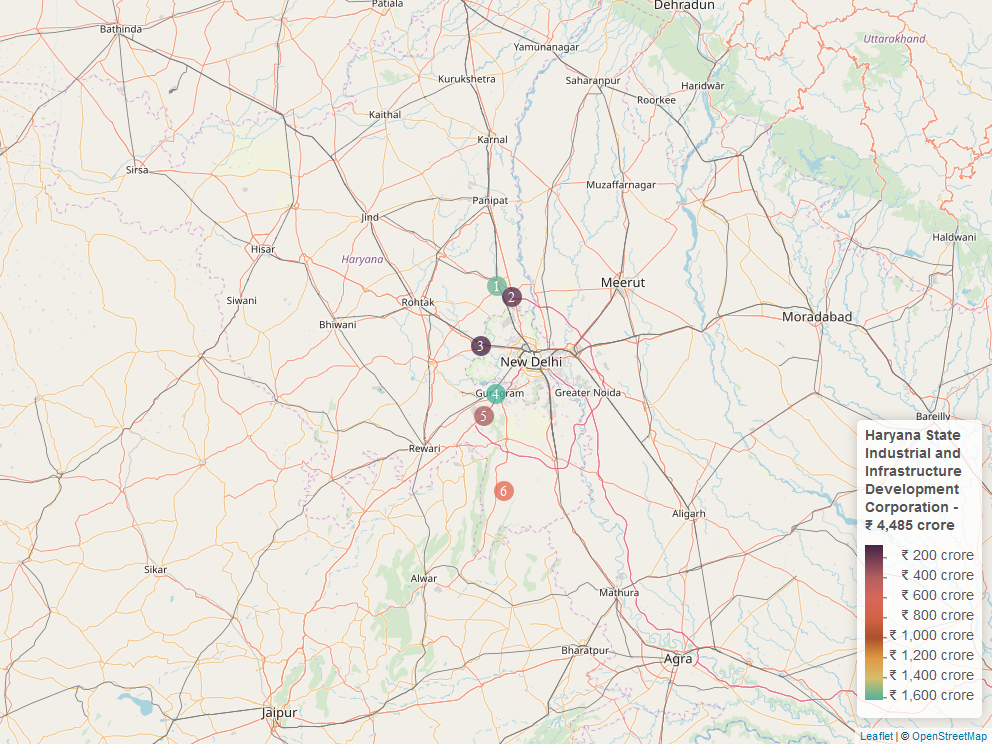 [3] Haryana State Industrial and Infrastructure Development Corporation
#
District
Area (acre)
Value (₹ crore)
1
Sonepat
3,201
1,577
2
Rai
385
110
3
Bahadurgarh
195
77
4
Gurugram
1,590
1,619
5
Manesar
668
368
6
Mewat
1,501
734
Total
7,540 acre
₹ 4,485 crore
References