Lutyens Bungalow Zone
The Lutyens Bungalow Zone (LBZ) is the most valuable parcel of real estate in the country. Located in the heart of Delhi it comprises of 3,000 government properties and 600 private bungalows.
The land parcel is actively kept out of reach of private individuals and heavily regulated. The population density of LBZ is just 14-15 people per acre while other parts of Delhi are starved for space with density as high as 1,100 to 1,600 people per acre. [1]

Land allotment and its utilisation is highly arbitrary and discretionary on the government officials. There is an absence of a uniform rental policy in place for political groups that occupy the majority of the 25 sq. km area.
In their replies to RTI petitions, urban authorities have compounded the riddle that how sprawling Lutyens' estates under government control are allocated.
An RTI filed with the authorities found out that the rules of the urban development ministry have been generously relaxed for the Congress and the BJP, India's two big parties. In 2015, the Congress was served a government notice to vacate all four addresses. In fact, their allotment was also cancelled. Yet, the party remains in possession of all the estates. On paper, every national party is entitled to run an office on government land in Delhi for three years. After that, they are required to shift their work-place to privately-owned space.

National presidents of designated national political parties qualify for residential accommodation in Delhi only if they don't have any other in any other capacity. The BJP has two bungalows in its possession in Lutyens' Delhi: 11, Ashoka Road, its former party headquarter and 14, Pt. Pant Marg, office of the party's state unit. Two different RTI responses by the directorate of estates give two different rentals for 11 Ashok Road. The March reply quotes it at Rs 3,920 per month, the April note to as high as Rs 78,921 a month.

In another response from the government, the Congress is paying merely Rs 3,920 as monthly rent for 24, Akbar Road. While the Chanakyapuri bungalow under the occupancy of NCP is used as the residence of party office-bearers.
As per a government circular of July 31, 2014 no state party is entitled to office space on government estate. However, the NCP, BSP, Samajwadi Party also have their offices in government-provided accommodation. [2]

According to an official at DDA "At the core of the LBZ, there are many 'loose' areas, including triangular blocks, barracks, and quarters where proper utilisation of land and densification is possible.
The valuation of the 25 sq. km parcel is valued conservatively (uing FSI of only 1) at ₹ 19.32 lakh crore. [3]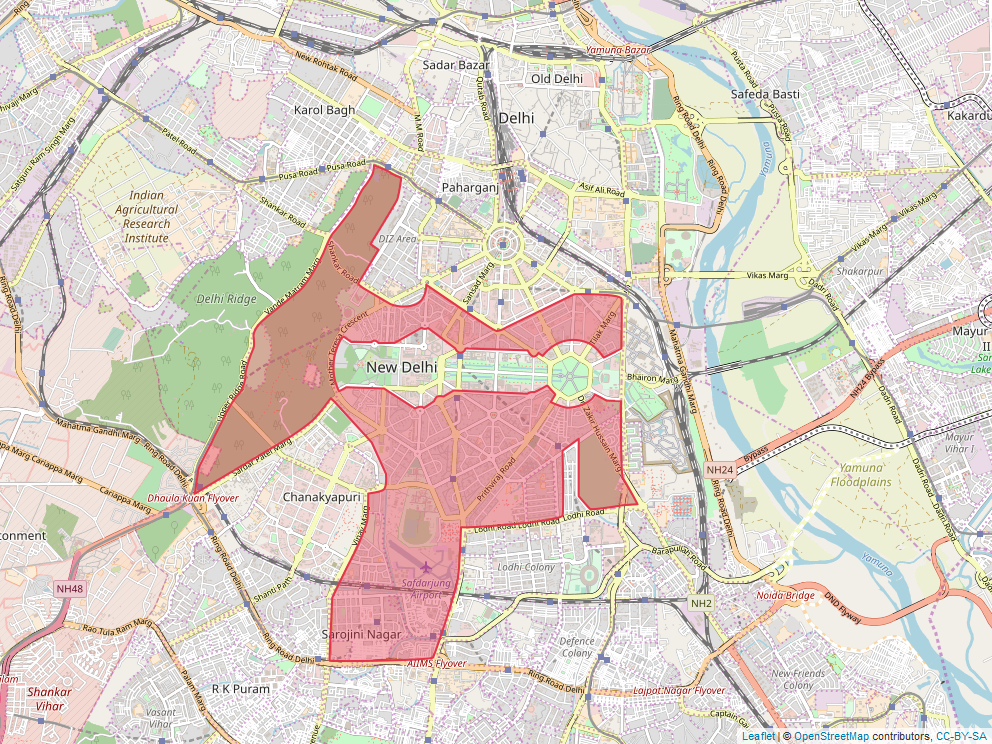 References
↑

[Calculation - Total Area x Circle Rate] - 2,49,70,075.05 sq.metre (6,170.24 acre) x ₹ 7.74 lakh/sq.metre = ₹ 19.32 lak crore.