Ranchi Industrial Area Development Authority
Ranchi Industrial Area Development Authority The Ranchi Industrial Area Development Authority (RIADA) was established in the year 1973 under the statutory provision of The Industrial Area Development Authority Act 1974. RIADA functions under the control of Government of Jharkhand. The main functions of RIADA are to facilitate infrastructure facilities and services to entrepreneurs for setting up industries for economic growth of Jharkhand.

The total area of land lying vacant under RIADA is about 184 acres. The total value of these unused land parcels held by RIADA is around ₹ 316 crore [1].

Around 25 acres of land valuing ₹ 2.6 crore under RIADA is lying idle in Garhwa District. In Hazirabhag district about 144 acres of land is lying vacant valuing ₹ 43 crore. In Lohrdaga district about 10 acres valuing ₹ 269 crore.

Such land parcels are being abused and restricting urban expansion and development in major cities. .If these parcels of land are unlocked from the control of politicians and bureaucrats then it can contribute to the economic development of Jharkhand and will urban expansion.

Refer to the table and accompanying map for details.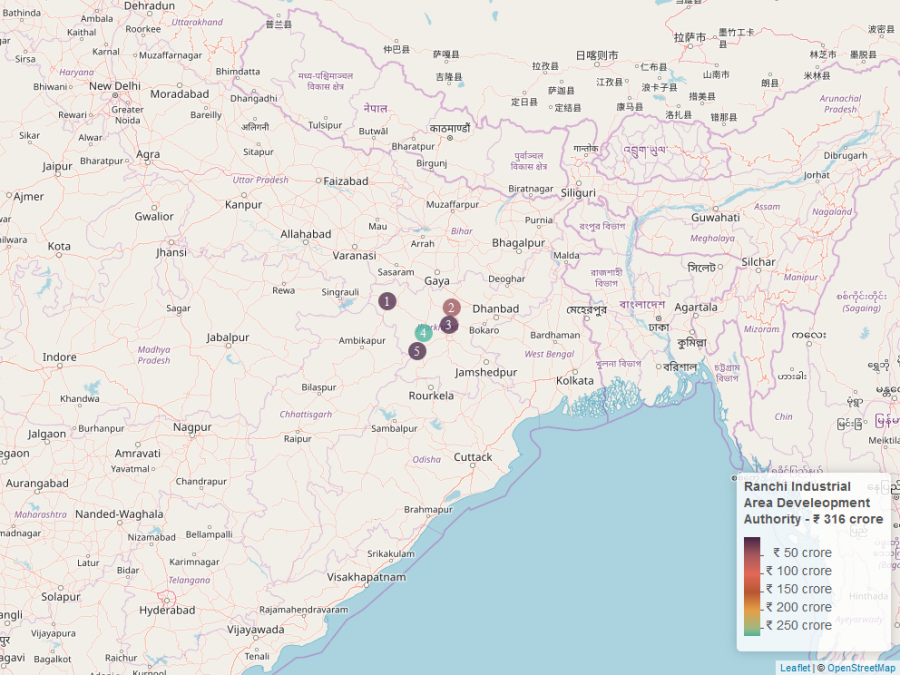 [2] Ranchi Industrial Area Development Authority (RIADA)
#
District
Area (acre)
Value (₹ crore)
1
Garhwa
25
2.6
2
Hazirabhag
144
43.4
3
Patratu
4
0.8
4
Lohrdaga
10
269.3
5
Gumla
1
0.04
Total
184 acre
₹ 316.1 crore
References