State Infrastructure and Industrial Development Corporation of Uttarakahnd Limited
The State Infrastructure and Industrial Development Corporation of Uttarakhand Limited (SIIDCUL) was established in the year 2002. The main function of SIIDCUL is to create an atmosphere for private-players by providing them financial assistance, speedy clearances and specialized consultancy for setting up industries in the state.

The total area of land lying unused under SIIDCUL is 2,016 acre (or about 1,500 football fields). The total value of these unused land parcels is ₹ 3,917 crore. [1]

1,759 acres of land of the value ₹ 3,561 crore is lying vacant in IIE SitarGanj Phase-II at Uddham Singh Nagar. Another 198 acres of land of the value ₹ 281 crore in IIE Kashipur at Uddham Singh Nagar is kept vacant. In IIE Kotdwar at Pauri Garhwal around 59 acres of land of the value ₹ 145 crore is lying unused.

The Comptroller and Auditor General (CAG) pointed out huge irregularities in the functioning of SIIDCUL. In 2006, SIIDCUL allotted two plots to two companies for the production of helmets and pesticides in Pantnagar Industrial Area. The condition laid was for these two companies to start the production by September 2008. However, these two companies did not start any production on the land allotted to them and neither did SIIDCUL cancel their allotment. These companies were also granted the benefit of concessions in power tariffs which caused the taxpayers and the government of Uttarakhand a loss ₹ 4.30 crore [2].

SIIDCUL had acquired a large chunk of land in the name of Industrial Development and ended up misusing it by giving undue benefits to few companies.

If this large chunk of unused and misused land parcels are unlocked from the control of SIIDCUL then it can be put to use for many other productive purposes in the state of Uttarakhand. Refer to map and its accompanying table for details.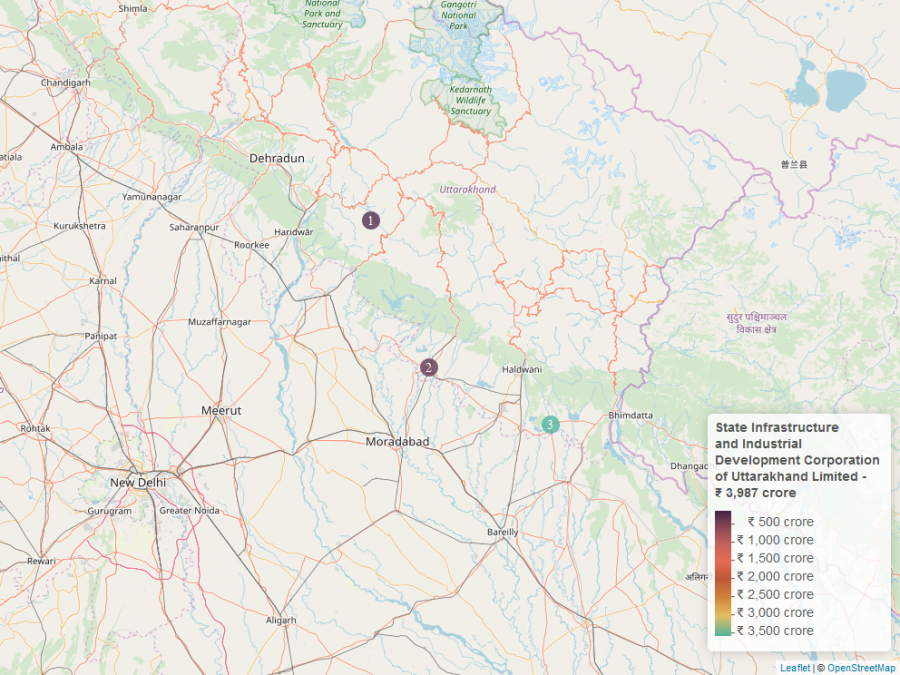 [3] State Infrastructure and Industrial Development Corporation of Uttarakhand Limited (SIIDCUL)
#
Location
Area (acre)
Value (₹ crore)
1
Pauri Garhwal - IIE Kotdwar
59
145
2
UddhamSingh Nagar - IIE Kashipur
198
281
3
Uddham Singh Nagar - IIE Sitarganj Phase II
1,759
3,561
Total
2,016 acre
₹ 3,987 crore
References