Steel Authority of India Limited
The Steel Authority of India Limited (SAIL) was established on January 24, 1973 [1]. The company operates under the management of the Ministry of Steel and Mines. SAIL is the largest steel-making company in India. It has five major steel plants across the country which includes Rourkela Steel Plant, Bokaro Steel Plant, IISCO Steel Plant, Durgapur Steel Plant, and the Bhilai Steel Plant.

According to Comptroller Auditor General (CAG), the total land held by the five steel plants of SAIL is 1,01,598 acres. As of March 2017, the company possessed title deeds of only 48,918 acres of land (48 per cent) of the 1,01,598 acres of land held by the five steel plants of SAIL.[2] A huge portion of land under the control of these five steel plants across the country is kept unused and is under encroachment.
Encroached Land in Steel Plants
#
Plant
Area (acre)
1
IISCO
20
2
Rourkela
391
3
Bhillai
510
4
Durgapur
1,163
5
Bokaro
1,932
Total
14,016 acre
CAG has pointed out that out of the total 1,01,598 acres of land held by these five steel plants, around 29,008 acres of land (or more than 20,000 football fields) is either leased, surplus, or encroached. The auditor also revealed that the company did not make any master plan for the utilization of these surplus land parcels.
The total value of such unused, encroached, and leased land parcels held by the company is ₹ 58,149 crore.
If these unused, leased, and encroached land parcels are monetized then each Indian household may stand to gain ₹ 23,277.

This shows that the government cannot even protect their own land from encroachments. On the other hand, the company even kept a large chunk of valuable land unused in major cities. There is a possibility that SAIL holds more such unused or encroached parcels of land across the country. Refer to the map and accompanying table for details.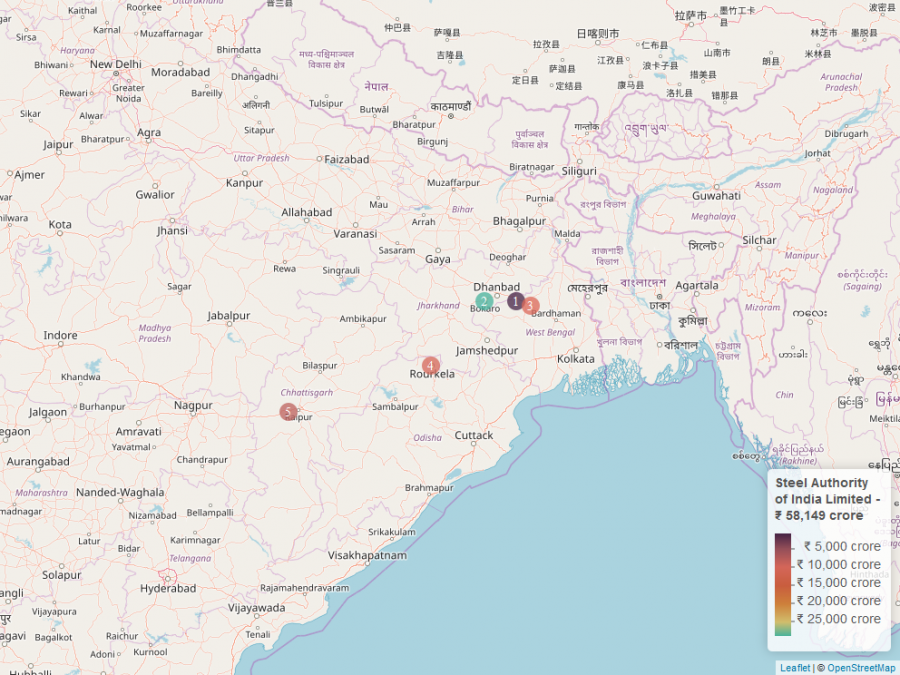 [3] Steel Authority of India Limited (SAIL)
#
Plant
Area (acre)
Value (₹ crore)
1
IISCO Steel Plant Burnpur
432
874
2
Bokaro Steel Plant
14513
28,820
3
Durgapur Steel Plant
5252
10,627
4
Rourkela Steel Plant
4952
10,020
5
Bhilai Steel Plant
3859
7,808
Total
29,008 acre
₹ 58,149 crore
References