Uttar Pradesh State Industrial Development Corporation
The Uttar Pradesh State Industrial Development Corporation (UPSIDC) was established on March 29, 1961. UPSIDC functions under the management of the Ministry of Infrastructure and Industrial Development, Government of Uttar Pradesh. The main functions of UPSIDC are to facilitate infrastructure facilities and services to entrepreneurs for setting up industries for economic growth of Uttar Pradesh.

The total area of land lying vacant under UPSIDC is 1,508 acres (or 1,142 football fields). The total value of vacant land held by UPSIDC is ₹ 3,038 crore. [1]

The Comptroller and Auditor General of India (CAG) pointed out that during 2012-13 to 2013-14, UPSIDC had a target to develop 1,662 acres of industrial land, but UPSIDC failed to meet its targets and developed only 190 acres of land. Resulting in a shortfall of 88 per cent. [2]

The CAG also revealed that during these years UPSIDC incurred an expenditure ₹ 27 crore for upgrading and maintaining of industrial areas. However, as per the operating manual the upgradation work taken up by UPSIDC was not permitted. As a result, an expenditure of ₹ 27 crore remained unfruitful.

The Government of Uttar Pradesh acquired vast tracts of land in the name of industrial development and did not develop them, instead kept them vacant. The corporation also inefficiently wasted taxpayer's money in upgrading industrial areas eventually lying vacant.

Such land parcels are left unused and are restricting urban expansion and development in major cities. Refer to the map and its accompanying table for details.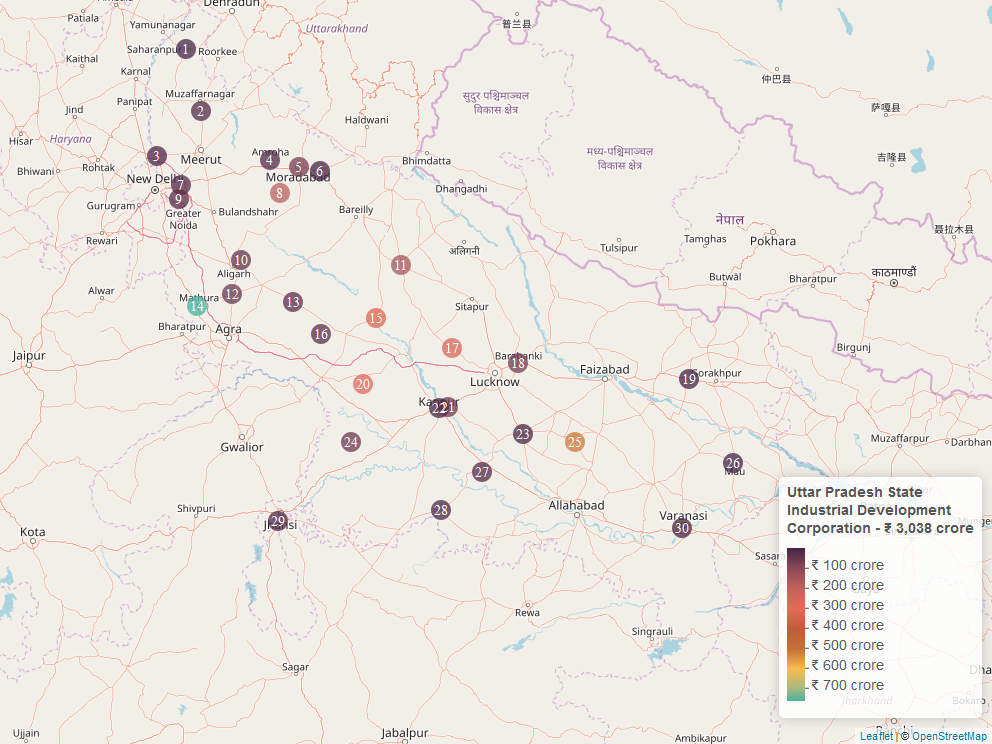 [3] Uttar Pradesh State Industrial Development Corporation
#
District
Area (acre)
Value (₹ crore)
1
Saharanpur
2
5
2
Muzaffar Nagar
12
23
3
Baghpat
5
10
4
Amroha
10
20
5
Moradabad
37
74
6
Rampur
2
3
7
Ghaziabad
11
22
8
Sambhal
87
175
9
Gautam Budh Nagar
14
29
10
Aligarh
23
46
11
Shahjahanpur
67
135
12
Hathras
26
52
13
Etah
16
33
14
Mathura
376
760
15
Farrukhabad
167
337
16
Manipuri
15
30
17
Hardoi
124
250
18
Baraban
33
67
19
Sant Kabir Nagar
1
1
20
Auraiya
138
278
21
Unnao
29
58
22
Kanpur Dehat
5
9
23
Raebareli
2
4
24
Jalaun
29
58
25
Amethi
253
511
26
Mau
1
1
27
Fatehpur
9
19
28
Banda
4
9
29
Jhansi
9
17
30
Varanasi
1
2
Total
1,508 acre
₹ 3,038 crore
References