Hindustan Machines and Tools Ltd.
Hindustan Machines and Tools Limited (HMT) is a state-owned enterprise established in the year 1953. HMT functions under the control of the Ministry of Heavy Industries and Public Enterprises, Government of India. HMT is in the business of manufacturing watches, tractors, printing machines, and metal forming presses. HMT is headquartered at Bengaluru.

HMT holds vast tracts of land across the country which is lying unused. The total area of vacant land held by the HMT is 471 acres. The total value of these unused land parcels is ₹ 997 crore [1]


In the year 1962 Government of Punjab gifted 846 acres of land to HMT at Pinjore, Haryana. However, the company utilized only 400 acres of land and the remaining 446 acres of land of the value of ₹ 90 crore is lying idle. 5 acres of land held by the HMT at Bengaluru is been kept unused. Another 13 acres of land under the company is lying unutilized at Hyderabad. The company is sitting on a large chunk of valuable land in these major cities.

These unused land parcels should be freed-up from the control of Hindustan and Machines Tools Limited so that it could be used for the development of the country.

Refer to the table and accompanying map for the details.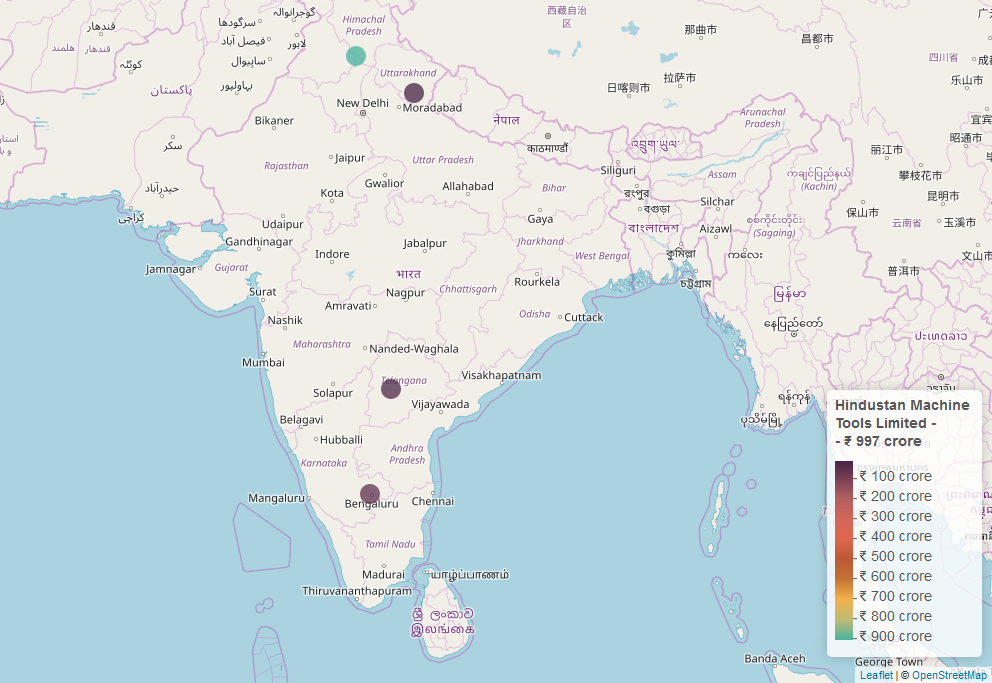 [2] Hindustan Machines and Tools Ltd.
#
City
Area (acre)
Value (₹ crore)
1
Pinjore
446
902
2
Nanithal
7
14
3
Hyderabad
13
26
4
Bengaluru
5
54
Total
471 acre
₹ 996 crore